In Stock Now ✅

Free Delivery 🚚

Easy Returns 📦
Regular price
Sale price
£34.99 GBP
Unit price
per
Sale
Sold out
Product Description

The Marley Modern Vent Tile makes it easy to vent your loft, bathroom extractor fan, or soil vent pipe.

It is compatible with Marley Modern roof tiles.

Scroll down to find out more in-depth product details, how the product works, and which package you need.
Specifications

Length (mm): 420
Width (mm): 328
Weight (kg): 0.85
Country of Manufacture: UK
Material: Thermoplastic
Format: Single Tile
Airflow Capacity (mm²): 10,000
Minimum Roof Pitch: 22.5 degrees
Colour

Changing the colour using the drop-down selection box will change the main product image to the colour name that you click on.

We have colours to match every Marley colour.

And if you need something more customized, we can even colour match your roof tiles — send your photo to scott@beddoesproducts.com.
Fast & Free Delivery

FREE DELIVERY on all orders

You don't have to enter all your details to find out our delivery charges.

Postage will always be free if you're in the UK.

And we'll never take more than 5 working days to send it (unless clearly stated in the product description).

We only use DPD Next Day, so you can expect delivery within 7 working days.

You can also track your order and get text or email updates with your DPD delivery slot.
30-Day Guarantee

The BP Risk-Free Guarantee

Hassle-free returns within 30 days, with a full refund.

If you've had problems using the product, please get in touch and we will do our best to help you. 

To return your order, please go to our dedicated returns page:
View full details
Marley Modern Vent Tile
The Marley Modern Vent Tile makes it easy to vent your loft or bathroom extractor fan. 
Better roof ventilation is important if you want to protect the value of your home. So now is the perfect time to reduce condensation, prevent damp, and make your roof last longer.
Roof Ventilation Made Simple 
✅  Simple installation - One vent replaces one tile
✅  Colour matching - Almost disappears in your roof
✅  High-quality + durable - Built to outlast your roof
✅  Free home delivery - Don't waste your time at the builders' merchants
✅  30-day returns - No questions asked
Loft and Bathroom Condensation is Rising
There's a big problem with roof ventilation:

🔥 We're making more heat (showers, washing, and central heating)
🏠 Our homes hold more heat (double glazing, loft insulation, and cavity wall insulation)
When warm air rises and meets the cold surfaces of the ceilings or roof, it condensates into water droplets.
And over time, untreated loft and bathroom condensation can lead to damp, rot, and mould growth. Leaving this untreated can cause huge problems in years to come.
Your Multi-Purpose Solution 
The Marley Modern Vent Tile is an almost invisible solution with 3 key applications:
🏠  Loft ventilation
💦  Shower fan
🚽  Soil vent pipe
Please note
: Not recommended for cooker hood extractors because it doesn't support the airflow.
Not what you're looking for? Try our full collection of Marley Tile Vents.
Choose Your Package
1️⃣ Vent Only
If you want to improve loft ventilation, this is the package for you.
2️⃣ Vent + Pipe Adaptor
The pipe adaptor helps you connect your bathroom extractor fan, with a 110 mm diameter outlet. If your pipe is 100 mm, you can add our 110-100 mm duct reducer when you go to your basket. This costs £7.99. We don't hide any extra charges.
3️⃣ Vent + Adaptor + Flexi Pipe
Our premium quality flexi pipe helps you connect your soil vent pipe. With a full extended length of 550 mm, it is NOT a substitute for extractor fan flexi pipe. The pipe diameter is 110 mm at both ends, with jubilee clips to secure in place.
How to Buy
Select your colour

 

and package from the drop-down menu, then add them to your basket.
Continue to your basket, adding a 110-100 mm reducer if required (you'll see a pop-up for this).
Checkout using your preferred payment method. 
Specifications

Length (mm): 420
Width (mm): 328
Weight (kg): 0.85
Country of Manufacture: UK
Material: Thermoplastic
Format: Single Tile
Airflow Capacity (mm²): 10,000
Minimum Roof Pitch: 22.5 degrees

Installation Guide

All of our Marley Modern Tile Vents are quick and easy to fit.

Our printed fitting instructions show a simple step-by-step guide that anyone can follow.

Download a copy here: Download Marley Vent Tile fitting instructions (PDF)

We recommend working with a professional roofer.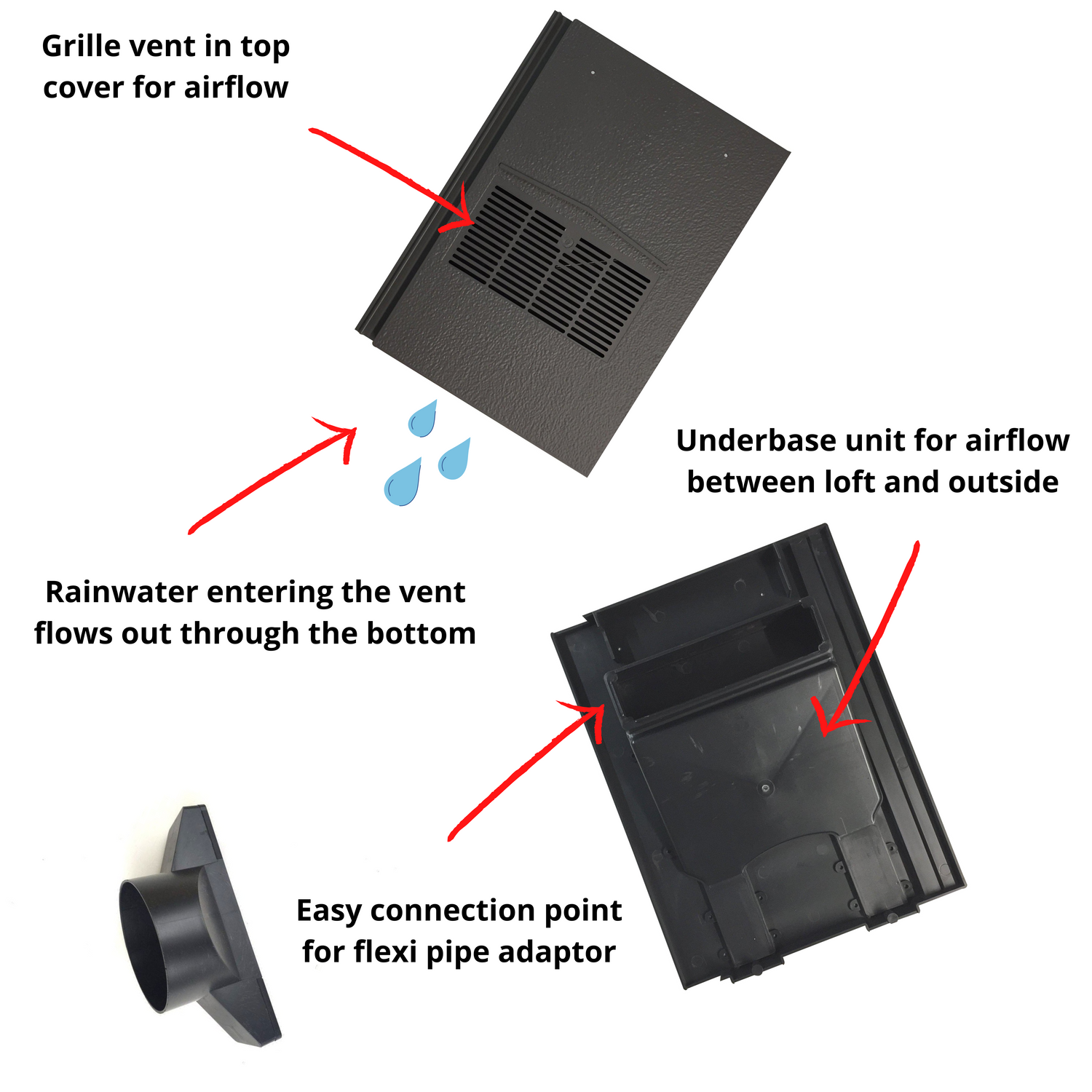 How do Marley Modern Vent Tiles Work?
You can see how our Marley Modern Vent Tile works in the image to the left (or above if you're on mobile).
Air flows through the vent via the underbase unit and grille.
Rain that enters the vent will flow out through the bottom via water channels, onto the roof tiles below.
The pipe adaptor makes an easy connection point for your bathroom extractor fan or soil vent pipe.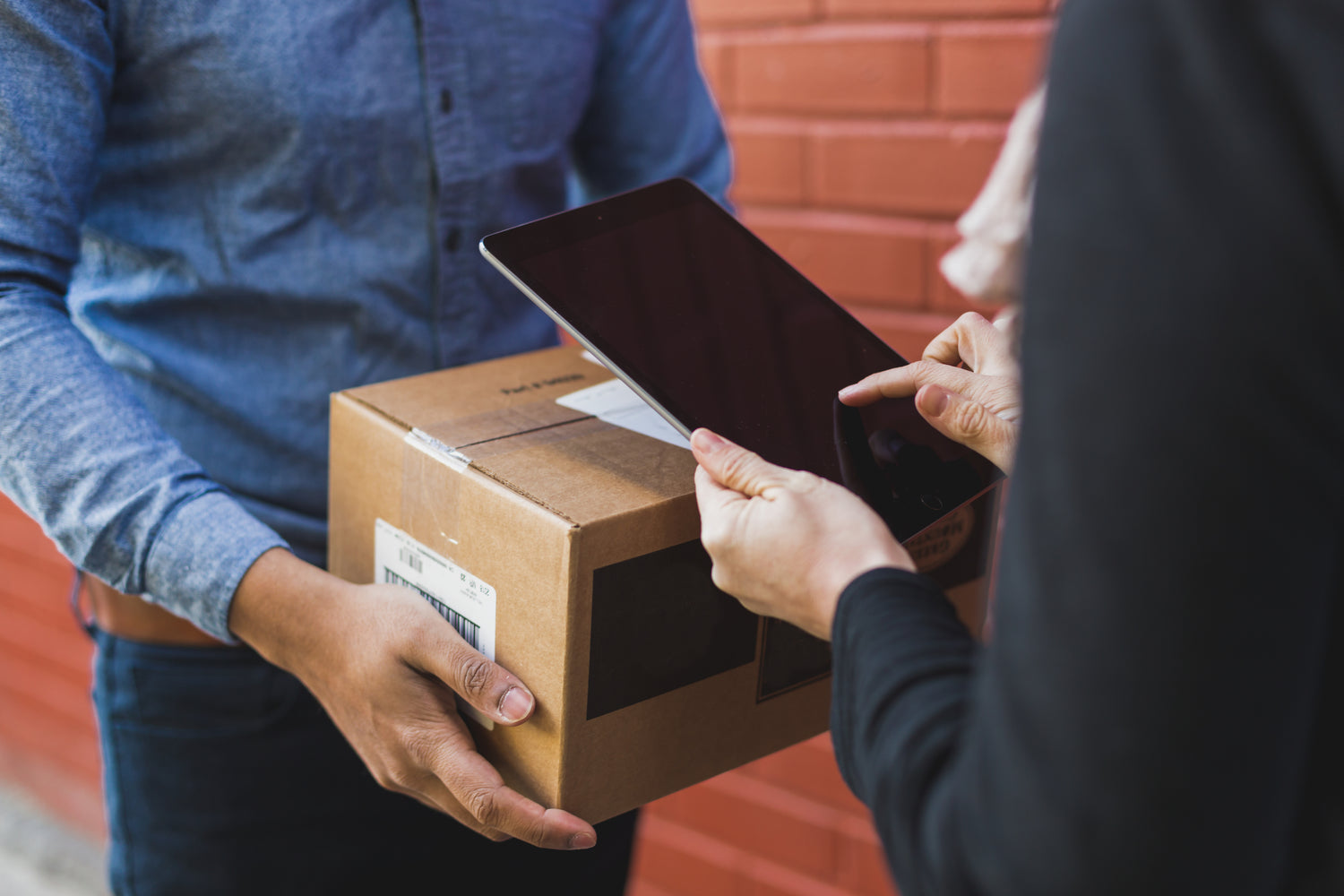 UK Manufacture, 30-Day Guarantee, Free Delivery & Colour Matching
We only sell roof tile vents. This narrow focus means we can make the best products possible and give you helpful advice.
We also make all our products in-house so they are always in stock and ready for free delivery to your door.
We can also colour match our roof tile vents to your roof tiles and easily make changes to your order.
Customer Reviews
08/20/2023
Anonymous

United Kingdom
Roof tile vent
Was exactly what I required - very pleased
03/31/2023
Anonymous

United Kingdom
Marley Modern Vent tile in Old English red
Brilliant, Perfect match, arriverd quickly and blends in really well. Excellent.
04/20/2023
Beddoes Products
Thanks for reviewing! Great to hear that the colour match was good
10/22/2022
John H.

United Kingdom
happy customer
Very efficient quick supply no complaints
08/07/2022
Anonymous

United Kingdom
Vented roof tile
Just fitted it my self, never fitted one before took about an hour,quite easy albeit on a kitchen roof I would not have fitted it on the house roof(to high)
06/25/2022
Anonymous

United Kingdom
Great company
We have not fitted the tile vents yet but was extremely happy with the service provided, delivery was very quick and the order was carefully packed. The tile vents look good quality and match our tiles. We will definitely use again.
01/06/2021
Robert M.

United Kingdom
Fantastic service!
Scott at Beddoes is brilliant! He very kindly took the time to answer my questions in order to purchase the right vent tiles for my roofer to fit. He even went as far as to paint them to match my roof. Thanks so much for your help Scott!
01/21/2021
Beddoes Products
Thanks for taking the time to review your order. I'm glad you're happy with the product! No problem
Excellent service
Great product, exactly as expected and delivered within 48 hours, I would definitely use this company again